Do you ever just all of a sudden find yourself wanting to learn something new-and then ask where did this come from???
It happened to me late Friday into Saturday.
In July near me there is a fiber event called Fiber U full of venders and classes for two days. All fibers for weaving, spinning, crochet and classes to choose from. The event is fun, I usually buy a couple big bags of alpaca to spin. The last two years I have taken spinning classes and also a couple classes learning about fleece and the different wools.
They just posted the 2017 class schedule on the 10th. I found two classes of interest-a natural red dyeing class and a landscape felted project. I was hoping for another spinning class but nothing this year interested me as I was hoping to take the core spinning class or an intermediate class and they did not offer either this year.
Then I spotted a class on Tunisian crochet also called the afghan stitch or Shepherd's knitting. It is a cross of crochet and knitting. This caught my interest. I tried knitting back when I was really young and didn't like it, and never thought to learn crochet. This intrigued me so did google searches. I want to try this now. lol I think I will enjoy another hand project along with my weaving.
By the time I added up fees for two classes and then their $35.00 registration fee on top of that-I decided no I am going to spend my money differently; especially since I had also spotted some bison-merino-bamboo yarn on sale with free shipping.
Soooo I bought the yarn, and then a book on tunisian crochet, and I found a set of vintage tunisian crochet hooks on etsy. Now to wait til it all arrives-lol the bison yarn I will weave with in case I decide differently.
The hook intrigued me too they have the crochet hook on the end but they are long like knitting needles. These are the ones I found.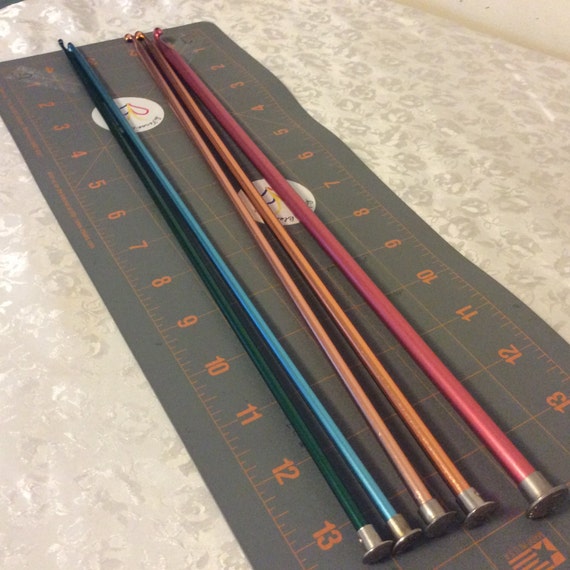 I live very rural so no stores nearby to look for these. I checked on amazon and ebay and etsy. I have a friend on facebook that says she loves this craft-and suggested I try the Boye brand and size J I was happy to find this set so I can try out different sizes.
This old craft is coming into popularity again so I did find some good sites online with tutorials, free patterns. I did decide to buy a book with the different stitches
Allfreecrochet had good information and patterns.
RedHeart also had a very informative site too
I guess I will have to find out how my left hand handles this but I think it will be ok.
After I added up what I would spend taking classes and buying more roving to spin (or more fibers I really don't need lol)-and then adding up what I spent for the bison yarn and to get started with this crochet-the monies spent came out pretty close to even--so I am pleased with my choice.
Do any of you create with the tunisian crochet? do you jump in like this too?? Please say that you do lol